Residential
INTRODUCING THE NEW SOLAR POWERED "FRESH AIR" SKYLIGHT(VSS)
The new VELUX solar powered "Fresh Air" skylight features a solar panel that captures daylight and uses it to recharge a highly efficient, fully concealed, battery powered operator and control system. The battery powered operator is the power source that opens and closes the skylight. This skylight requires no wiring which makes for an easy and cost effective installation. Great for cathedral ceilings! This skylight is also eligible for a 30% Federal Tax Credit.
ENERGY PERFORMANCE MODEL SKYLIGHTS
VELUX Energy Performance Model skylights are fixed skylights or manual skylights with a solar-powered blind. Every solar-powered blind comes with a touch remote control to adjust blind positioning during different times of the day for optimal energy efficiency.
*VELUX Energy Performance Model skylights qualify for a 30% federal tax credit, resulting in a $730 average savings on product and installation for a new skylight cut-in. In most cases skylights are free!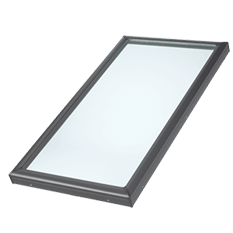 Skylight
Triple LoE, dual-sealed, argon-gas-filled glass. Meets ENERGY STAR® requirements in all climate zones.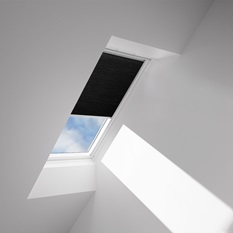 Factory-installed solar blind
Solar-powered, double-pleated, room darkening blind. Boosts energy performance up to 40%. Choose from 5 in-stock colors below.
FIXED SKYLIGHTS (FS)
Skylights that provide plenty of sunlight but do not open. Redesigned to feature the 10 year "No Leak" warranty.
MANUAL VENTING SKYLIGHTS (VS)
Skylights that open with a hand crank or an extended telescopic rod.
SUN TUNNELS
Low cost way of bringing sunlight into a dark space. They come in 10, 14 and 22? diameter tunnels. High pitched sun tunnels  are great for installations where the roof is not facing directly south. Low profile sun tunnels are perfect for south facing roof slopes. The new "flat lense" sun tunnel is ideal for houses that must maintain certain H.O.A. building requirements or rules.