Old Skylight Replacement Carmel
There are a lot of reasons to love your skylights; they beautify your home by adding a lot of natural light, create a more open feel, and can even help cut your energy costs. But when your skylights start to age, you need to consider having them replaced. Not a lot of contractors have the know-how to do Old Skylight Replacement in Carmel. So who do you turn to?
That's where Circle City Skylights comes in. We're Central Indiana's only authorized VELUX 5-Star Installer. Whenever you need help with Old Skylight Replacement Carmel, just give us a call at 317-501-1457. We're skylight specialists, so you're guaranteed to love the work we do.
How to Know When It's Time to Replace Your Old Skylights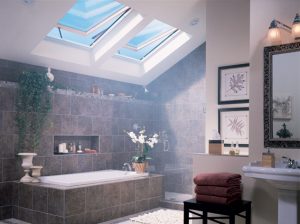 Buying a new skylight is one of those home improvement projects that few people ever really think about – as long as it's still working and letting the light in, why bother replacing it?
If your skylight has been around for a while, you might want to start paying more attention to it. Problems usually start small but can progress rapidly – the longer you wait, the more likely it is that you'll have to deal with expensive repairs. So do your best to catch issues early by looking for these signs indicating your old skylight needs to be replaced.
1. Feeling Drafts or Excessive Heat
If you're sitting comfortably in your room and you all of a sudden feel a draft that seems to come out of nowhere, it could be your skylight. When your skylight reaches the end of its lifespan, the seal around is likely to fail.
This weakened seal will end up being quite the energy drain, since it lets in cold air in the winter and warm air in the summer. A seal failure like this is a pretty good sign that you need to have your skylight replaced.
It is possible to have the sealing around your skylight redone. This would be a viable option if your skylight is just a few years old. When you're dealing with an older skylight, like around 10 years old or more, you're probably better off upgrading to a newer, more energy efficient model.
2. Excess Condensation on Skylight
Excess condensation is another sign that your skylight might need to be replaced. Condensation commonly occurs during bouts of cold weather when warm air in your home comes into contact with the chilly skylight.
The presence of some condensation on your skylight is natural in the winter time. But issues can arise when condensation is excessive or if it develops between two panes of glass. Circle City Skylights specializes in sealing your skylight to prevent from this condensation from taking over
When there's too much condensation present, it can leak onto structures surrounding your skylight and cause damage. Condensation between window panes indicates that the seal isn't holding, allowing air to seep through. If either of these two occur, contact us for Old Skylight Replacement Carmel.   
3. Warped or Wet Material Around Skylight
You can also tell that it's time for a new skylight when the area surrounding it is wet or warped. Finding this sort of damage is another indication that the seal is broken. 
If you discover wet or warped wood, it usually means that water has been seeping into your home through the skylight for quite some time. It's important that you have the area repaired and a new skylight installed as quickly as possible, before further – and even more expensive – damage occurs.
4. Skylight That Is Cracked or Broken
Skylights are built to be pretty tough. They have to be, considering they're directly exposed to harsh conditions like wind, hail, rain, snow, and excessive heat from the sun.
But even the most durable skylight can break down over time. Acrylic skylights are especially vulnerable because they become brittle after many years in the sun.
Skylights are also highly susceptible to storm damage. Just one wayward tree limb or a bad hail storm, and your skylight could end up cracked or broken.
If you do end up with a damaged skylight, it's time to start looking into a replacement. You may not see evidence of it immediately, but neglecting your broken skylight will likely lead to water damage – it's just a matter of time. 
5. Skylight Is Leaking
One of the clearest signs that you need Old Skylight Replacement Carmel is if you notice a leak. If you have little beads of water dripping from the skylight onto your floor, it's pretty obvious that it's time for a replacement.
Contact Us for Old Skylight Replacement Carmel
If you've noticed any of the above signs, or if you're just ready to upgrade your skylight, feel free to give us a call. We'd love to help you find a skylight that's beautiful, air-tight, energy efficient, and the perfect complement to your home. We can be reached at 317-501-1457 or through the contact form on this site.